Un-Convention Oct '10: Music Jobs discount
Posted on September 9th, 2010 by
Lee Jarvis
in
Advice & Tips
,
Music Industry News
From Brass Bands to Colombian Hip Hop.

Un-Convention Salford 2009
Starting as an alternative to mainstream music events around the world – Un-Convention was first held in Salford in October 2008. Two years on and 11 events later, Un-Convention has grabbed the attention of the global grassroots music community and now has events taking place in India, Colombia, Brazil, Australia, Spain, Germany, USA, Iceland – each event carrying the overall Un-Convention ethos, but each driven by it's local grassroots music scene and infrastructure. All being coordinated from Salford with instigators around the globe.
This year's national Un-Convention event promises to be the biggest and best yet. Taking influence from Un-Convention events around the world and inviting some of the most inspirational and influential figures from the global grassroots music scene – this year will use Un-Conventional spaces – including a barge, Salford Lads Club, Chapel Street venues – Sacred Trinity Church, Islington Mill, Salford Central Station; and explore new and cutting edge issues around music, technology and creativity.
We have so far confirmed that Bill Drummond, Roisin Murphy, Jarvis Cocker, Martin Atkins, Jon McClure, Brian Travers, Billy Bragg, Kevin Cummins and Don Letts will be doing unusual and interesting things in the most unexplored places in the City. We will also host a travelling circus; music photography on buildings; very special interactive performances in unusual spaces around Salford and a brass band opening the event. Watch this video of Martin Atkins from the Un-Convention Salford event in 2009…
Martin Atkins at Un-Convention Salford 2009 from Ruth Daniel on Vimeo.
The panel programme features: Andrew Dubber (New Music Strategies), Aki Nawaz (Fundamental), Steve Lawson, Scott Cohen (The Orchard), Jason Singh, Cilla Baynes (Community Arts NW), Vijay Nair (OML India), Martin Giraldo (La Capsula, Colombia), Lykle de Vries (New Music Labs, Netherlands), John Robb, Get Cape, Wear Cape, Fly. Panel content includes; 'the politicisation of music'; 'a digital day on a barge'; 'music as a tool for social change'; 'do it together', 'bands and brands', 'building a sustainable career in music' and 'we fought the law'.
Music nights curated by BBC Introducing, Helmets for Men, Debt Records and Now Then Magazine, including performances from Roisin Murphy, Billy Bragg, Reverend Soundsystem, Gabby Young and Other Animals performing with Eccles Borough Brass Band, Kid British, Silverclub, Jah Wobble, The Beating Wing Orchestra, The Unabombers, The Whip DJs, Young Fathers, Paul Green, King Capisce, Joe Kriss, The Janice Graham Band, Phillious Williams, Caro Snatch, Naomi Kashiwagi and Matthew Krysko, Mendiamler, Debt Records Stage and Coupe De Ville and many more. Plus, a very special one off performance with Jon McClure, Martin Atkins, Jah Wobble, Jarvis Cocker, The BBC Philharmonic and performers from DR Congo, Poland, Colombia, Brazil, Africa and more places around the world.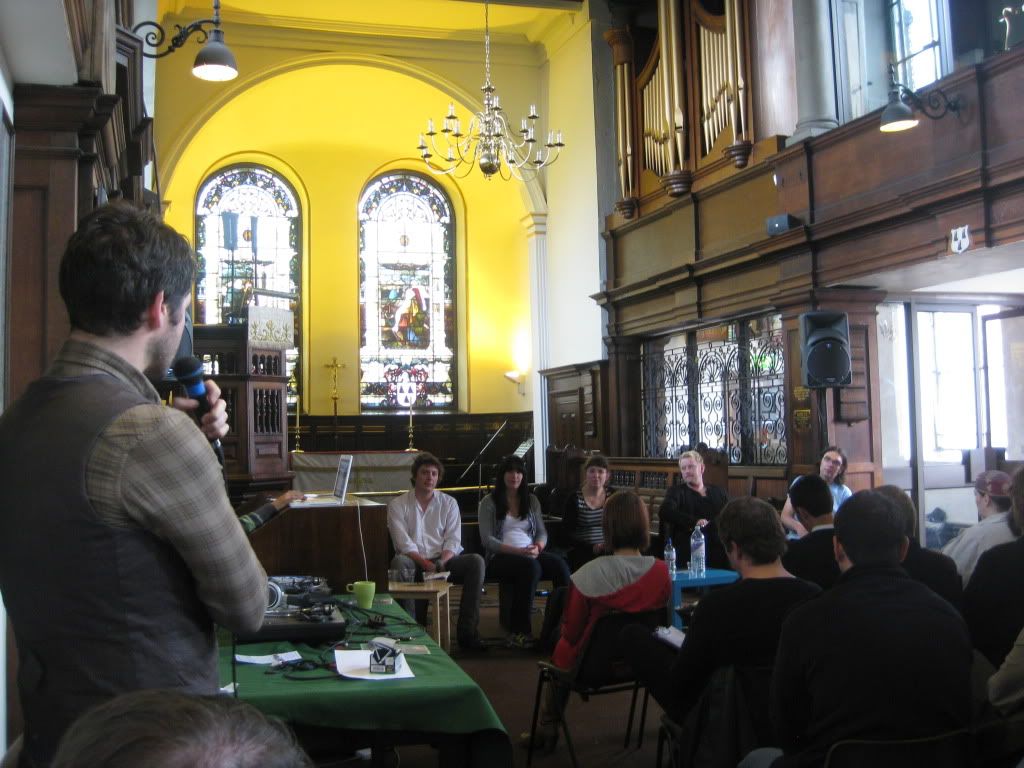 Un-Convention Salford 2009
For more information on Un-Convention visit: http://www.unconventionhub.org
Tickets are available here: http://unconventionsalford2010.eventbrite.com/ from £14 – £40. Using the code UNCONUKJOBS will give members 15% off the ticket price.
by Lee Jarvis.
---
Tags: andrew dubber, BBC, Billy Bragg, grass roots, Jarvie Cocker, martin atkins, roisin murphy, UK music, unconvention