Music Industry Career Profile: Promoter
Posted on April 19th, 2012 by
Lee Jarvis
in
Career Profile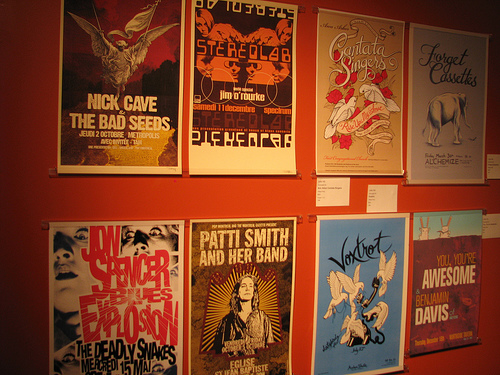 Image by merfam on Flickr (Creative Commons License)
Ah, push it.
The creative world of music needs someone to sell it. Be it bands, solo musicians or DJs, a Promoter is at the heart of taking the music to the masses.
Responsibilities
First of all, an independent Promoter will need a venue in which to host their event. Therefore, maintaining contact and developing relationships in order to gain the best deal is a priority. The deal may be as simple as a percentage of door fees, a split of food and drink sales, a straight hire fee, or a combination thereof. Setting up the venue dealings are just part of a Promoter's role – as a freelancer or as a direct venue employee, the execution of the promotion is key. They use a variety of methods to pull in crowds, from the classic guerrilla tactics of handing out flyers and plastering posters across a town or city, to full page magazine adverts, billboards, radio events, sky banners, giveaways, text messages, social media and more. Generating a 'grass roots' word of mouth excitement is still important on any level, and bigger promotions companies may often have a 'street team' of helpers or promotions assistants in each city, often taking on flyering and social media tasks for a small cut of each ticket sold.
Advertising, publicity, bookings, security, ticket sales and more are often taken on as part of the Promoter's workload, either for profit, controlling, or recognition purposes.
Skills
An attention to detail and good leadership skills are essential in order to produce a well-rounded event, and a financially successful one. Being technically savvy is something an employer will be looking for, as in recent years most Promoters have been advancing with new technologies to create new ways to interact with music consumers and gig-goers, including SMS messaging, internet forums, mobile apps and more. In the long term, a freelance Promoter job will require you to build a uniquely personalised brand and a loyal fanbase, defined from those of the venues or bands performing, so some business, marketing and communication skills are necessary to learn also.
Experience
With no set qualifications for the world of promoting, most Promoters start small and grow as they learn and gain experience. Using smaller venues or starting up on the quieter nights of the week is normally a way to get a foot in the door. From there, opportunities may arise to work with a larger promotion company who subcontract out the smaller secondary rooms of a multi-room venue to smaller, more local Promoters as part of a one-off or special event. Another avenue is working full-time for one particular event space. Established venues can have an in-house Promoter to fill their venue with different acts for each night they are open. Recently, a handful of large corporate companies have emerged, who require all kinds of assistants and specialists in social media or radio for instance, creating a 'junior' Promoter level that job seekers may be able to apply for.

Current Promoter Jobs
Promoter Jobs
Promotion Assistant Jobs
Promotion Department Co-ordinator Jobs
Promotion Director Jobs
Promotion Manager Jobs

by Lee Jarvis.
Follow Lee on twitter
@leejarvis
---
Tags: advice, careers, Experience, job description, jobs, promoter, promotion, skills