IFPI publishes Digital Music Report 2013
Posted on March 14th, 2013 by
Lee Jarvis
in
Music Industry News
2012 was fun. It was packed full of talented UK artists doing their thing on all kinds of levels. We also put together a very groovy mixtape. But what did the official figures say? The IFPI released their 2013 Digital Music Report just the other day, compiling all the data on physical and digital sales for the UK and US markets over the last 12 months. Here are the key points;
Global Music Revenues Up
The grand total of all global recorded music revenues in 2012 hit $16.5 billion, which is up 0.3% from $16.2 billion the previous year and the first year-on-year climb since 1999. However, the total revenue from 1999 was somewhat more impressive – $27.8 billion*, and the 2012 total is still a long way down from just seven years prior, when 2005 revenue stood at $22.9 billion*, according to the IFPI. (*figures adjusted for inflation)
Strong Digital Growth
Digital revenue now owns a huge piece of the total revenue pie – around 34% globally, and even stronger (50%+) in the U.S., Norway, and Sweden. The trend in listening format habits helped bump 2012 total digital revenues to $5.6 billion, up 9% on 2011's figure of $5.1 billion.
Subscription Services Leap Forward
Streaming platforms are the fastest-growing area of digital music, seeing a 44% increase in the number of paying subscribers for 2012, taking the total to around 20 million. Revenues for the first half of 2012 jumped a staggering 59%. This also marks a milestone in that subscription services have accounted for over 10% of total digital music revenues for the first time, and this ratio climbs towards 20% in many European countries where streaming services are well established such as Sweden, France and the UK.
Spotify alone saw huge growth in their converting of free users to the paid premium service, with their paid subscribers now standing at a total of five million, up from three million in 2011 This is approximately 20% of their total listeners, and again climbs higher in certain countries such as Sweden, where over a third of the population use the service, and have pushed it to become the largest source of digital music revenue in the country. French web-based music streaming service Deezer is growing globally too; it is now available in 182 countries and has collected over three million paying subscribers worldwide.
Downloading is Still Cool
Despite the huge increase in popularity of streaming platforms, download sales still saw very strong growth, and legal download stores such as iTunes and Amazon mp3 now represent around 70% of all global digital revenue. In 2012, an impressive 4.3 billion units (singles + albums) were sold globally, a 12% year-on-year rise in volume. Of that, 2.3 billion units were single track downloads, which is up 8% on 2011, and digital albums shifted 207 million copies, up 17% on the previous year.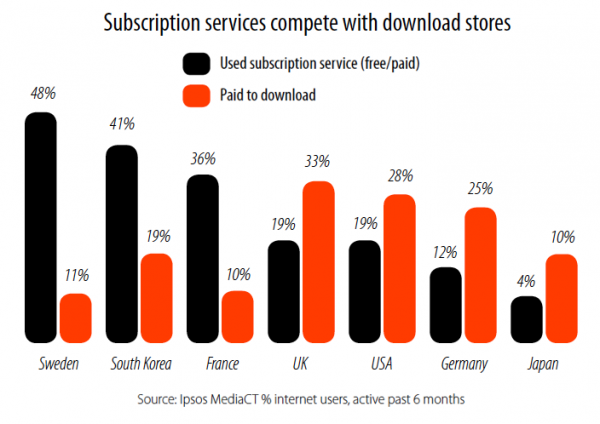 Music Video
Music video continues it's meteoric rise of recent years, with YouTube still dominating global audience figures. Now with more than 800 million active users per month, it is clear that many users use youtube as a music streaming service of sorts, with nine out of ten of its most watched videos being music-related. In addition, the year saw large growth for VEVO as they launched in Australia, Brazil, France, Italy, New Zealand South Africa and Spain during 2012. They also saw solid take-up in the mobile market with 21 million mobile and tablet apps downloaded to date.
Internet Radio
The next generation of radio consumption is truly upon us. Online radio services can create unique stations from an individual listener's interests and likes, and deliver a custom experience each time. The leading service, Pandora, has reached 66 million active listeners worldwide after their 2012 expansion into Australia and New Zealand, and their U.S.-based fans helped them account for 8% of all radio listening in the country.
Conclusion
The full IFPI report goes into some interesting case studies, from the mobile fan-base of One Direction, to successful independent labels in dance music, to the challenge of taking classical music to digital, to the future surge of markets such as Brazil. Download the full report here.
It is clear that the new music industry is really taking shape. Consumers are finding accessible, convenient legal services that provide value and flexibility for their needs. The payment options are secure and easy; the brands are not only trustworthy but credible and 'trendy' to follow and support. Discovering new music is easier than ever, even with the immense amount of audio available – either custom streams or feeds filter your preferences, or you refer to a 'tastemaker' source such as a music blog (the new 'DJs'?).
The new industry will likely never see such a heavy consolidation as thirty years ago, when the vast majority of the public consumed music in only two or three ways. Instead, the plethora of formats, services, platforms, and systems out there have helped different niches of people enjoy music on their own terms. This fragmented yet now-somewhat-solid system, forms the basis of the 21st century digital music industry.
by Lee Jarvis.
Follow Lee on twitter @leejarvis and get music jobs updates from @ukmusicjobs.
---
Tags: 2012, Amazon, Deezer, digital, downloads, IFPI, iTunes, Music, Music Industry, Pandora, radio, report, spotify, streaming, Vevo, video, youtube